A Special and Grant China Trademark Festival
2020-12-9 11:11:42
From December 5th to 7th, 2020, the long-awaited 12th China Trademark Festival was held in Nanchang, the capital of Jiangxi Province. Top Win Patent and Law Firm is honored to be invited to participate in this event, and had a booth to communicate with everyone.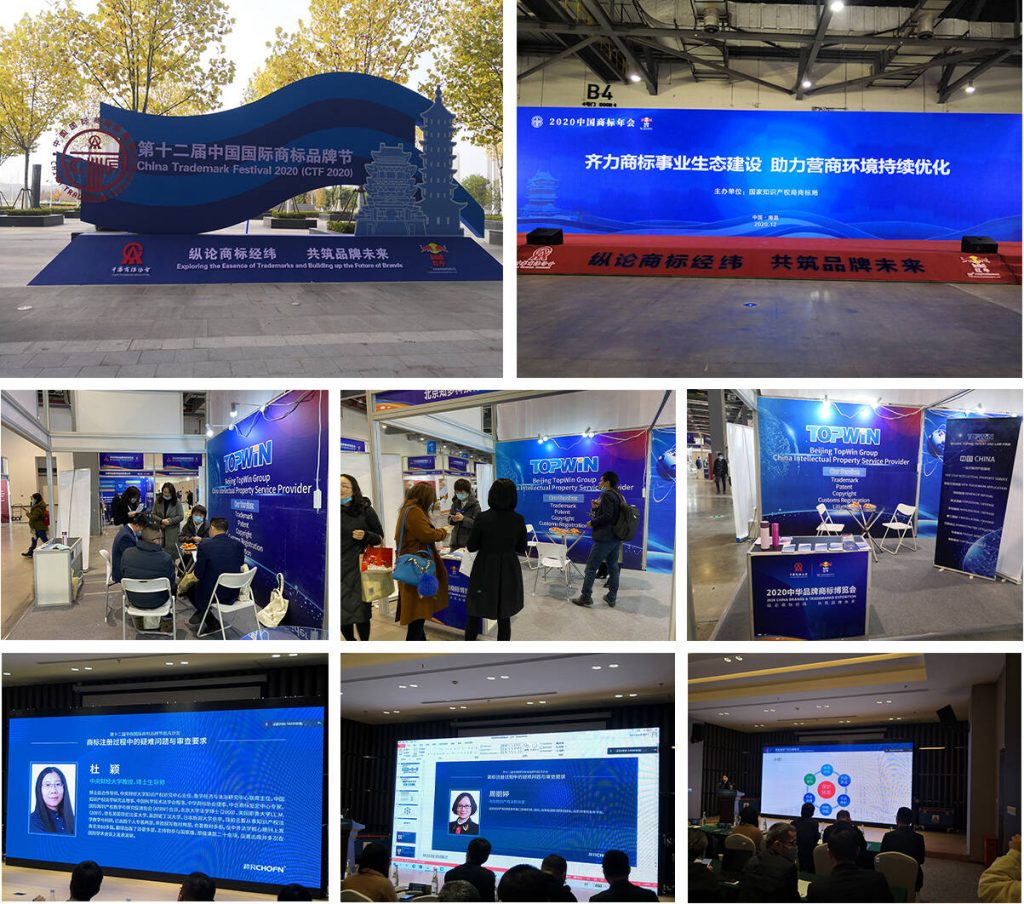 This is a grand event of very special significance.
One is that masks worn by everyone can be seen everywhere. The enthusiasm for communication is high. At the same time, people are consciously wearing masks for the health and safety of themselves and others. The organizer, China Trademark Association, has set up at every entrance gate of the venue for temperature detection devices, and everyone needs to show a health code to enter.
The second is the topic "trademark order" that was widely discussed in this meeting.
The representatives of Top Win listened carefully to learn and participated in the different topics, such as application of absolute terms of trademark registration in the context of the new trademark law, difficult issues and review requirements in the process of trademark registration, investigation and collection of evidence and evidence preservation in trademark infringement cases, China trademark review practices and new explorations , Internet infringement and rights protection in the Internet plus era, issues of malicious trademark registration and case analysis, etc.
There are mainly revolved around two major topics in this conference. One is the trademark office's improvement of trademark examination efficiency and new exploration of the examination system, and the other is the increasing attention of all parties to infringement and rights protection.
In the era of rapid development of various industries driven by scientific and technological progress, online infringement and rights protection issues have become increasingly prominent. How to maintain a good trademark order has become one of the most discussed topics, not only the improvement of the legal system, but also the term "citizen integrity". It has been repeatedly mentioned by experts and scholars, business leaders, intellectual property professionals, and social workers with extremely high frequency.
We are very pleased to see that in just a few decades of development, the China Trademark Office has significantly improved its examination efficiency. In 2020, the average examination time of the Trademark Office for new trademark registrations is only 4 months and 26 days. And the number will be further shortened in 2021. In addition, the "examination opinion" procedure has also been used more, and the examination has become more humane, which provides more convenience for applicants.
As a firm that is dedicated to assisting global entities to protect their China's intellectual property rights, TOP WIN also understands its important mission, and will surely do its best as an international intellectual property firm as always.